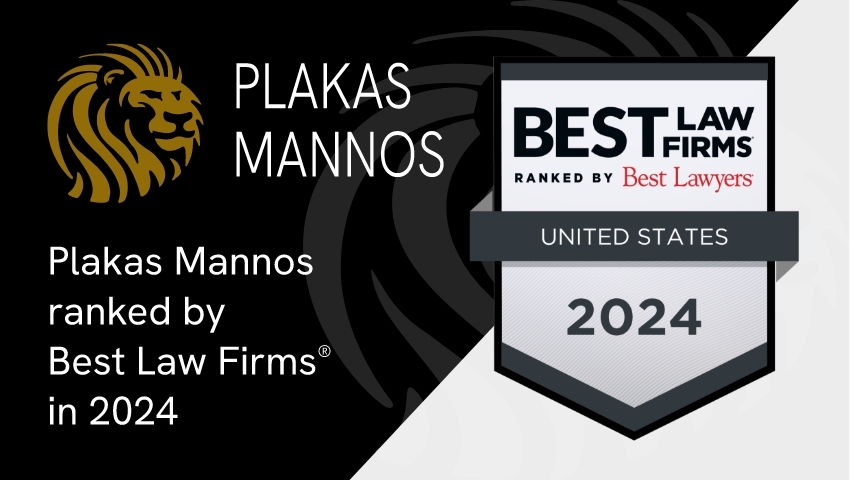 Ohio law firm Plakas Mannos—based in both Canton and Akron, Ohio—has been regionally recognized in the 2024 edition of Best Law Firms®, ranked by Best Lawyers®, in 14 practice areas.
Firms included in the 2024 Best Law Firms® list are recognized for professional excellence with persistently impressive ratings from clients and peers. To be considered for this milestone achievement, at least one lawyer in the law firm must be recognized in the 2024 edition of The Best Lawyers in America®.
"The year 2024 will bring our firm exciting advancements as we have recently launched a new 'state of the art' website to enhance our clients' online legal experience," explains managing partner Lee Plakas. "We are honored to be recognized by Best Law Firms once again."
Plakas Mannos's Akron Office received the following rankings in the 2024 Best Law Firms®:
Regional Tier 1

Regional Tier 2

Regional Tier 3

Bet-the-Company Litigation

Criminal Defense: White-Collar
The Plakas Mannos attorneys in Akron, Ohio, and Canton, Ohio, are committed to continuously improving themselves and their client services in creative ways to build upon their reputation for professional excellence.
About Plakas Mannos
Since our founding in 1957, Plakas Mannos continues to provide the highest level of expert counsel and aggressive representation to those we serve. Our firm prides itself on our attorneys' abilities to combine the professional assets of intellectual and academic excellence with a wide range of courtroom and pragmatic experience.
Our experience gives us the advantage of knowing when it is most effective to aggressively litigate an issue, and when it is preferable to negotiate a fair resolution. Our ability to provide clients with insight from both perspectives results in a significant advantage that is often the key to a positive outcome.
The Plakas Mannos team includes 17 attorneys, a medical analyst and an excellent team of paralegals, administrative personnel, and law clerks who all have one goal in mind: Justice for our clients. The attorneys of Plakas Mannos have been leaders in the courtroom for over 60 years. Our talents in client advocacy have been recognized by every leading rating publication, which consistently recognize our attorneys as the very best in their profession.
About Best Law Firms®
Best Law Firms® is the most credible ranking of exceptional law firms, rooted in a rigorous, peer-to-peer, industry-driven evaluation. Achieving a tiered ranking in Best Law Firms signals a unique combination of quality law practice and breadth of legal expertise. Ranked firms, presented in three tiers, are recognized on a national and metro-based scale.
The reputation earned over the past 14 years and a future-focused commitment to innovation provides legal professionals with an elevated stature, validation and confidence that comes from being part of, and working with, a Best Law Firms honored practice.
About Best Lawyers®
Best Lawyers® is the oldest and most respected peer-review research and accolades company in the legal profession. Best Lawyers compiles extensive recognitions by conducting exhaustive peer-review surveys in which tens of thousands of leading lawyers confidentially evaluate the work of their fellow legal professionals within their local market and specialty. Lawyers are not required or allowed to pay a fee to be listed; therefore, recognition by Best Lawyers is considered a singular honor.
Work with the Best
When you need legal assistance, you want Ohio lawyers with the wisdom to understand the opponent, the courage to forge into battle, and the endurance to win the war. You want lawyers like the team at Plakas Mannos.
Explore our practice areas to learn more about the firm or contact us today.
---
Share This Story, Choose Your Platform!
Tweet