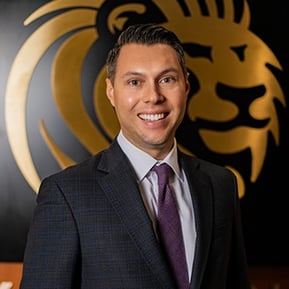 On September 14, 2023, Plakas Mannos attorney and partner, Collin Wise was elected as the president of the Stark County Association for Justice (SCAJ). The SCAJ is dedicated to client advocacy and to advancing the learning and skills of its civil litigators.
Attorney Collin Wise continues the legacy of excellence as the third attorney from Plakas Mannos to be promoted to president.
"Having been a member of SCAJ for the past 10 years," Collin began, "I have immense respect for each member individually and for their collective passion to ensure members of the Northeast Ohio community have excellent legal representation during their quest for justice."
He shared, "It is a true honor that those I respect so much would ask me to serve in this role to safeguard and advance this important organization."
Collin Wise is an accomplished attorney and partner at Plakas Mannos. Collin is recognized for his unwavering dedication to advocating for the rights and well-being of his clients. He graduated cum laude from The University of Akron of Law in May 2012 and was admitted to the Ohio Bar in 2012.
Focusing his practice on civil litigation, Collin is armed with an extensive understanding of navigating complex legal landscapes with precision. His approach is characterized by a blend of professionalism, empathy, and strategic thinking, making Collin a great fit for leadership in the Stark County Association for Justice.
About Stark County Association for Justice
SCAJ includes attorney members from across Stark County who are dedicated to representing individual plaintiffs in personal injury, medical negligence, product liability, industrial accident, workers' compensation and other cases.
The organization's guiding principles include:
To advance the cause of those who are damaged in person and property

To assist those who need legal help

To protect the civil justice system and right to a trial by jury

To resist any effort to reduce, limit, or remove the rights of individuals who seek remedy through the civil justice system

To uphold and defend The United States Constitution, The Ohio Constitution, and laws of the United States

To encourage cooperation among lawyers engaged in the furtherance of such objectives, and through such cooperation to promote justice, professionalism, and humanity
Continuing The Legacy
The legacy began with Lee Plakas, the managing partner at Plakas Mannos. As one of the founding members and a past president of SCAJ, Plakas helped set the guiding principles for the association.
Plakas Mannos takes pride in their attorneys and partners and encourages each of them to take part in professional associations to better their practice and the community.
Maria Klutinoty Edwards, attorney and partner, passes down her presidency of the Stark County Association for Justice to her fellow partner, Collin Wise.
Edwards states, "I have full confidence in Collin's capabilities, dedication, and legal acumen to lead this wonderful association forward. Together, we have all strived to uphold the highest standards of justice, ethics, and excellence in our field. Collin will continue to achieve that high standard, and we look forward to witnessing the continued advancement and growth of the Stark Country Association for Justice."
Congratulations, Collin Wise, on this outstanding achievement!
Learn more about the Plakas Mannos team and our various practice areas.
---
Share This Story, Choose Your Platform!
Tweet