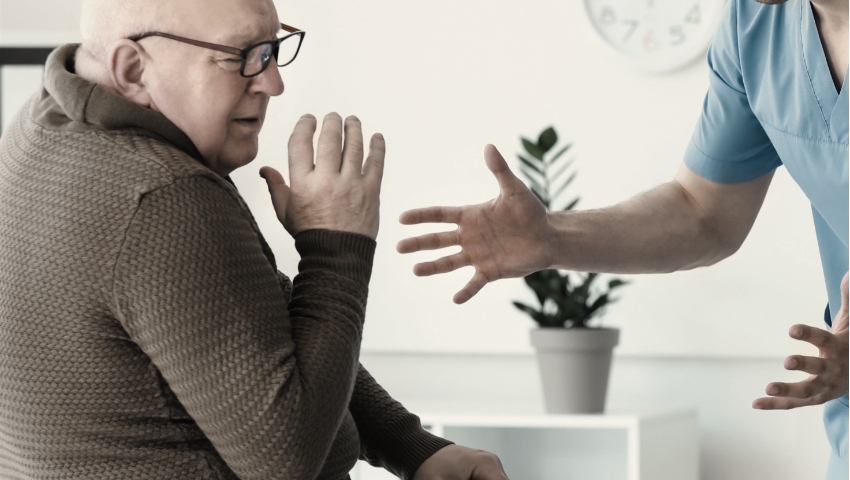 So many people in our community and across the country entrust the care of aging or sick loved ones to nursing homes or assisted living facilities. We all do our best to select facilities that we hope are safe, and we hope and trust that our loved ones will be well cared for and treated with dignity and respect. However, all too often, nursing home and assisted living residents are mistreated, improperly cared for, and become victims of neglect and abuse, which can result in serious injury or death. The shock and devastation that families experience in such situations are immeasurable. But amidst the pain, there is hope - hope for justice, accountability, and empowerment.
In this article, we delve into the world of nursing home negligence and elder abuse and shed light on the work the attorneys of Plakas Mannos Law Firm have done – and continue to do – to fight on behalf of victims of nursing home abuse and neglect, and their families.
As our population continues to age, nursing home negligence has become an alarming issue in our society, leaving families grappling with the emotional and legal ramifications. As we explore this topic, we aim to help you recognize the signs of elder abuse, understand its profound impact on families, and introduce the proactive strategies employed by Plakas Mannos to hold the responsible parties accountable. Our firm's goal is to help you navigate this complex landscape, get you answers, and empower you to secure the compensation and justice that your loved ones deserve.
Recognizing Elder Neglect in Nursing Homes
To effectively address the issue of nursing home negligence, it is crucial to first understand the signs and indicators that often accompany such cases. By recognizing elder neglect in nursing homes, families can take the necessary steps to protect their loved ones and seek justice.
Unexplained Injuries: One of the most common signs of negligence is the presence of physical injuries or unexplained or unresolved health complications. These can range from bruises, cuts, and fractures to bedsores/pressure ulcers, rashes, and infections. Approximately one in six people aged 60 and above have experienced some form of elder abuse in the community setting in the last year according to the World Health Organization.
Emotional Duress: Another key indicator is the emotional well-being of the residents. Neglect and abuse can lead to psychological distress, depression, anxiety, and withdrawal. Family members should pay close attention to any sudden changes in behavior or signs of distress when visiting their loved ones in nursing homes.
Poor Conditions: Additionally, the overall cleanliness and maintenance of the facility can provide insights into the level of care provided. Poor hygiene, unsanitary conditions, medication errors, lack of communication, and inadequate staffing are all red flags that suggest negligence within the nursing home. Negligent nursing homes often fail to properly address the needs and concerns of their residents, leading to a lack of essential medical care, medication errors, and inadequate attention to individual needs.
By being vigilant and observant, families can sometimes spot these signs of negligence and take action to protect their loved ones. However, Plakas Mannos has experience with nursing home negligence and abuse in even the nicest, most high-end facilities. We understand the importance of recognizing negligence in nursing homes, and we employ strategies to ensure that the pain and suffering ofour clients never goes unnoticed.
Understanding the Impact of Nursing Home Negligence on Families
When a loved one enters a nursing home, families expect them to receive the highest standard of care and attention. Unfortunately, this is not always the case, as some nursing homes fall short of providing the level of quality care necessary. The effects of nursing home negligence can be devastating, not only for the residents but also for their families.
One of the most significant impacts of nursing home negligence is the emotional toll it takes on families. Discovering that a loved one has been subjected to neglect or abuse can be profoundly distressing. Family members often experience a range of emotions, including anger, guilt, and helplessness. Witnessing the suffering of their loved one adds an extra layer of pain, as they may feel responsible for their well-being and safety.
Moreover, it is stressful to be faced with the need to make decisions about whether to take legal action, and many people are not aware of the short timelines they have for making such decisions.
Furthermore, nursing home neglect can lead to significant financial burdens for families. In many cases, families have already made significant financial investments to ensure their loved one's care and well-being. However, when negligence occurs, families may find themselves facing unexpected medical expenses, funeral expenses, professional fees, and the need to relocate their loved one to a different facility. These financial strains can add to the emotional stress and make it even more challenging to find a resolution.
Understanding the full impact of nursing home negligence on families is crucial in order to address this issue effectively. And that's where Plakas Mannos steps in. With our extensive experience and expertise in handling nursing home negligence cases, we strive to get you answers as timely as possible, to bring justice to those affected, and to hold negligent facilities accountable to prevent future incidents.
Plakas Mannos' Proven Strategies for Accountability
In order to effectively address the issue of nursing home abuse and its impact on families, it is crucial to understand the full extent of this problem, and all of the sources and ways that evidence of nursing home negligence can be gathered. Here at Plakas Mannos, our nursing home abuse lawyers recognize this and have developed proven strategies to hold negligent facilities accountable and protect the rights of nursing home residents and their families.
Thorough Investigations
One of the key strategies employed by our team is thorough early investigation which is nuanced and tailored to best fit your situation. We understand that proving negligence often requires intellectual curiosity and ingenuity, which is why we leave no stone unturned when it comes to gathering relevant information and documentation. Whether it's requesting and reviewing medical records, interviewing witnesses, and/or consulting with industry experts early on, our firm's investigative approach ensures that no detail is overlooked.
Aggressive Advocacy
Another strategy utilized by the firm is aggressive advocacy from the outset. At Plakas Mannos, we are known for our tenacity and determination to fight for justice on behalf of our clients. We are not afraid to take on powerful nursing home facilities, their oftentimes out-of-state owners, and their legal teams, using our expertise to build compelling cases and fight aggressively for fair compensation.
Consistent Communication
Moreover, our team recognizes the importance of effective and frequent communication. We prioritize keeping our clients informed every step of the way, explaining legal processes clearly and understandably, and trying to get answers to the outstanding questions that matter to our clients. This open line of communication helps alleviate the stress and confusion that families may experience during the legal proceedings, allowing them to make informed decisions about their loved one's future.
Working Together
Additionally, the firm understands the significance of collaboration and partnership. We work closely with medical experts, forensic specialists, and other professionals to strengthen our clients' cases. By leveraging these resources, Plakas Mannos is able to present a comprehensive and compelling argument that supports our clients' claims and demands accountability from negligent nursing homes.
Contingent Fee Arrangements
We also understand that no one budgets for legal fees for the death or injury of a loved one due to nursing home negligence. As such, we are open to exploring whether a contingent fee arrangement is appropriate for these cases and have found these to be most beneficial to clients and families who are experiencing the aftereffects of nursing home abuse and neglect.
A Track Record of Success in Nursing Home Negligence Cases
In August 2011, Plakas Mannos held the then-largest assisted living or nursing home verdict in the history of Northeast Ohio: Freudeman v. Emeritus/Landing of Canton. Our firm represented the Estate of an 80-year-old woman, residing in an assisted living facility, who was erroneously given an anti-diabetic drug that was not prescribed for her, resulting in brain damage and death. Attorneys Lee Plakas and Megan Frantz Oldham went through a lengthy trial in federal court in the Northern District of Ohio, and the jury rendered a verdict in favor of our elderly client's estate in the amount of $1,930,000 plus $554,174.17 for attorney fees and costs. The defendant was represented by three separate law firms from three different states, all of whom had lawyers in the courtroom at the same time.
Plakas Mannos attorneys, including Attorney Plakas and Attorney Oldham, as well as Attorney Maria Klutinoty Edwards, have gone to trial against negligent nursing homes. The array of nursing home negligence cases handled by the firm includes cases involving medication errors, falls, medication side effects that were ignored, and other instances of medical malpractice. Plakas Mannos has also handled nursing home abuse cases, including nursing home sexual abuse and elder exploitation.
Through thorough investigation and careful analysis of the circumstances, we are able to identify the specific elements that will be critical in securing compensation and justice. Dr. Allison Kreiner and our nurse attorney, Cheryl Lee, are very important to this process, and are invaluable assets for our firm and our clients.
Navigating the legal process can be complex, overwhelming, and intimidating, especially when dealing with nursing home negligence. However, Plakas Mannos strives to ease this burden for our clients by providing clear guidance and support every step of the way.
Work with a Legal Team Who Cares
Our goal is to go above and beyond to secure compensation and justice for our clients and their loved ones. Through collaboration, strategic planning, and an unwavering commitment to our clients' best interests, we do everything we can to navigate the legal process effectively and obtain justice for our clients. Do you have a possible nursing home abuse case? Contact our team to see how we can help fight for you.
---
Share This Story, Choose Your Platform!
Tweet