Attorney & Professional Ethics
---
Attorney and Professional Ethics
Based upon their decades of experience in legal ethics and professionalism, Attorneys Dingwell and Cahoon represent attorneys and law firms throughout Ohio with ethics advisory services, law firm risk management, disciplinary investigations and proceedings, and professional malpractice expert witness testimony.
Reach out today
David Dingwell and Peter Cahoon bring extensive experience to benefit their clients. For years, they have served on certified grievance committees and participated in investigations of attorney disciplinary matters. Attorney Dingwell's additional service as a member and past chairman of the Ohio Board of Professional Conduct provides additional expertise when advising attorneys, judges, and law firms regarding Ohio's Rules of Professional Conduct.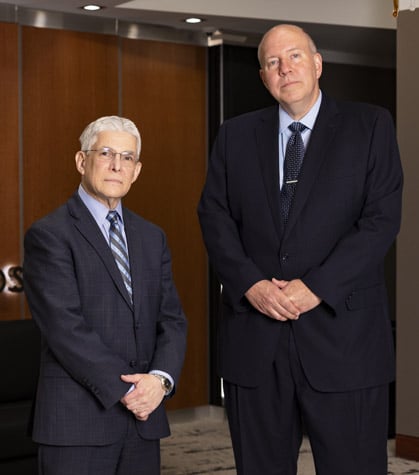 When Only the Best Will Do
When you're looking for attorney and professional ethics support, come to Plakas Mannos. Dingwell, Cahoon, and the rest of the team are ready to advise you on law firm risk management and more.
Fill out the form below to start a conversation today.
Request a Free Case Evaluation
Tell us how we can help you with law firm risk management.
Meet the Attorney and Professional Ethics Team